Oslo has good food, design and culture, but for spectacular scenery, nothing matches the west coast and the north. A drive along the famous coastal road will provide a lifetime of memories and photographs.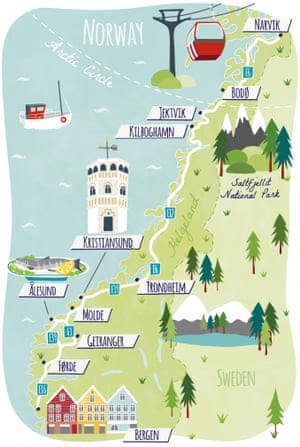 Drive north from Bergen on the first morning – start early if you want to make it all the way to Ålesund on day one – alongside and across fjords on the E16 before stopping for a salad lunch at riverside restaurant Pikant (£13, with cinnamon biscuits, quiche, cherry tomatoes, walnuts and strawberries) in Førde (175km/3 hours). You could also take a break in one of the many charming villages you drive through. Naustdal, for example, a few kilometres north of Førde, is where my mum lives. She has a kitchen view to die for: fjord, salmon river, beach, mountains, islands and the country's most westerly glacier.
Continue north for 14km to Storebru, then drive along the north shore of Eikefjorden before heading through extraordinary scenery to the small city of Ålesund, 214km and five hours north of Naustdal. From this road any surfers really ought to take the 40km detour (at Åheim village) to Hoddevik, one of the world's best and most secluded surf spots, where a beautiful beach sits between steep hills.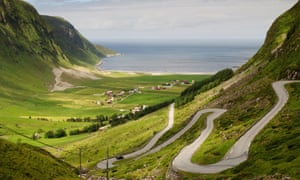 Ålesund was destroyed by fire in 1904 – but with only one fatality – and, after Kaiser Wilhelm supplied shelters and building materials, was rebuilt under the direction of top Norwegian architects in art nouveau style. It became a centre for the resistance to Nazi occupation in the second world war.
Climbing the 418 steps to the Mt Aksla viewpoint allows visitors to fully appreciate the beauty of this seaside town, with its pastel-coloured houses, stone harbour and backdrop of mountains and distant islands. The seafood is world class, and at XL Diner (mains from £33) dishes such as pan-fried cod tongues and monkfish cheeks are served at tables on a glass floor, with underwater views.At Hotel Brosundet (doubles from £126 B&B), room 47 is in the lighthouse at the end of a jetty, a five-minute walk from the hotel itself.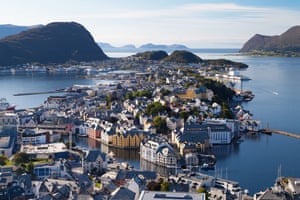 The destination on day two is Molde (207km including ferries). Start by driving into the rugged Sunnmøre Alps. Here you have to take some car ferries (from Solavågen, Standal and Hellesylt) offering spectacular views of three fjords. Have lunch on board – svele, which are semi-sweet pancakes with brown goat's cheese are the ferries' signature snacks. From Geiranger town, you head up the switchback bends of the Eagle Road, only to slalom back down on the Trollstigen (Path of Trolls) further north. At Molde, the Sail Hotel (doubles from £158 B&B) lives up to its name and stands as a landmark by the sea. It is a good place to crash, after dinner at the Glass Restaurant & Bar (mains from about £30).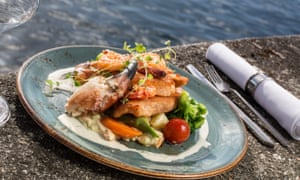 On day three, the iconic Atlantic road to Trondheim has dramatic bridges, including Storseisundet (top picture), between Molde and Kristiansund (72km/1hr 20min), crossing some of the wildest bodies of water conquered by road builders. You'll need your windscreen wipers – and a fishing rod will come in handy. Unless you catch your own lunch, eat fish and chips in Kristiansund harbour at the old-fashioned Mætt & Go Eteri og Landhandleri. The Seivika-Tømmervåg ferry awaits 40km east. Everything is relative, but the scenery en route to Trondheim (190km/3 hours) may come across as a bit mundane in comparison with what you have seen so far. The city is, however, buzzing with restaurants and nightlife, so spoil yourself by eating at Røst Teaterbistro (set menu of new Nordic cuisine food such as ceviche of haddock with a kimchi from £49). Britannia Hotel (doubles from about £150 B&B) in the middle of town will cure any homesickness. And its breakfast is legendary.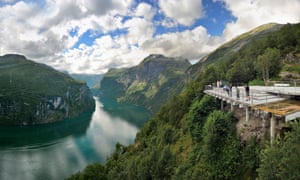 Day four starts in Hell, 30 minutes east of Trondheim, where a sign under the station name reads "Gods Expedition", old Norwegian for "Goods Expedition". After 97km/1hr30min, at tiny Asp, leave the country's main south-north road in favour of road 17 (via Sjøåsen), because many Norwegians rate the coastal region of Helgeland more highly than the legendary Lofoten archipelago, and you will see far fewer foreign tourists. But this route is not for speedsters, as six fjords need to be crossed by car ferry, which allows time for the powerful landscape to sink in. There aren't many hotels around, but staying in a rorbu (a wooden cabin traditionally used by fishermen) is a worthwhile experience. Havblikk Camping (£145, sleeps two) in the village of Nesna (320km from Asp) will sort you out. It has a simple but good restaurant, too.
Day five will see you cross the Arctic Circle at 66 degrees, aboard the ferry from Kilboghamn to Jektvik and eventually heading for Narvik and Harstad. Hours of scenic magic await until you reach Saltstraumen, where you can see one of the strongest tidal currents in the world, with powerful maelstroms. Twelve kilometres later you will be in the lovely city of Bodø, where my favourite restaurant is Nyt (set menus from about £60).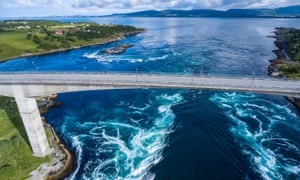 More jaw-dropping fjords and mountains await on day six in the Ofoten district. From Bodø, head north for nearly 200km to Drag and the car ferry across the 900-metre-deep Tysfjorden. After crossing the Skjombrua bridge, a detour immediately to the right runs to the end of Skjomen, the narrow fjord where the German battleship Tirpitz hid from allied bombers during the second world war.
Narvik is just 20 minutes north of the bridge. The city is famous for its spectacular ski slopes and cable cars, among other things. From the top it appears as if you will ski straight into the sea. Narvik is dominated by the 1,575-metre Sovande Dronning (Sleeping Queen) mountain, which is worth a hike if you have a day to spare.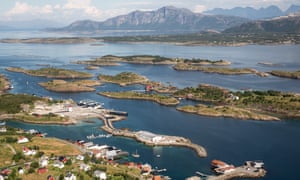 Narvik doesn't have a large culinary scene, although the local fishmonger serves outstanding fresh dishes at Fiskekroken.
For more choice, drive another 90 minutes north-west, to Harstad (the two cities share Evenes airport in the middle, with frequent flights to Oslo and other Norwegian destinations). There are only 20,000 people living in Harstad, but it somehow supports four outstanding restaurants: 4 Roser, Bark Spiseri, Hoelstuen and Umami.
Harstad is better than Narvik for nightlife, too. But summer visitors shouldn't forget that the reason it's so bright when they leave the pub late at night might not be because of their drunkenness; they are just in the far north.