I grew up having Tomas Brolin as one of my idols. That makes me different to everyone else on the Guardian's sport desk – and probably the whole company.
For those who do not know who Brolin is I can tell you that he was a wonderful footballer. He had brilliant technique, he had an extraordinary football brain and he was hard-working.
The attacking midfielder from Hudiksvall in the north of Sweden was the main reason we were able to finish third at the 1994 World Cup. True, we had Martin Dahlin and Kennet Andersson scoring the goals, and Jonas Thern and Stefan Schwarz in central midfield, but Brolin was the standout performer. Starting from the right of midfield, he had a free role and made all the difference.
The summer 1994 was an incredible experience. The sun was shining and the national team were exceeding all expectations. There was a party mood around the country. Everyone seemed happy and came together in a way that can happen when a national team do well.
Two years later the same thing happened in England and I was lucky enough to experience that too, having moved to Coventry in 1995. This time it was Alan Shearer, Teddy Sheringham and Paul Gascoigne bringing a nation together. The summer was glorious and is, for me at least, the last time there was genuine excitement about the England football team.
Which brings us to the World Cup quarter-final between Sweden and England on Saturday. Both countries are reliving one of their best summers (although the songs were better back then, including Three Lions and Vi Gräver Guld i USA [We are digging gold in the US]).
For many Swedes it is a strange emotion to face England. It is like coming up against your big brother.
Swedes have an unhealthy relationship with English football. We become obsessed with English teams from an early age. Since 1969 Swedish television has been showing top-flight English games on Saturday afternoons. As the Swedish season is in hibernation during the winter that was, for a long time, the only football to watch – live or on TV – for several months.
A lot of Swedes support English clubs with more passion than they do their Swedish equivalents. It is hard to explain why but it is nevertheless the case. As it happens, Swedish football is also heavily influenced by English football after Roy Hodgson and Bob Houghton conquered the country with their 4-4-2 revolution in the late 70s.
This led to an era of unprecedented success for Swedish clubs in Europe, with Malmö FF reaching the European Cup final in 1979 and IFK Göteborg lifting the Uefa Cup three years later (managed by a certain Sven-Göran Eriksson), playing a strict 4-4-2.
The current Sweden team also play in that formation and in a sense they will feel more English than Gareth Southgate's side and his 3-3-2-2 lineup. Despite the different tactics, however, there are many similarities between the coaches. Both have taken a national team that were on their knees and made them something to be proud of.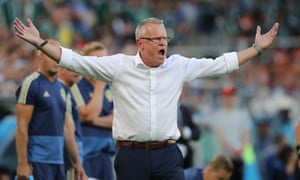 Both are calm individuals but possess a fire necessary to succeed at the highest level. Janne Andersson's touchline antics have been a regular feature of this World Cup and it was clear to see what the penalty shootout win against Colombia meant to Southgate.
Back in 94 and 96 both teams reached the semis before losing to Brazil and Germany respectively. This time only one can get that far. For me, Saturday will be a strange experience. I am in a privileged position to support both teams, although there is no denying that I want Sweden to go through. It is the country where I grew up and the country that made me who I am.
And it is why I have Brolin as one of my heroes. Most of my colleagues look strangely at me when I talk about him with a glint in my eye. They remember him only as the unfit player who turned out for Leeds and Crystal Palace after that horrendous ankle injury against Hungary in November 1994.
I may never succeed in convincing people that Brolin was a great footballer and it does not really matter. Football – and life – moves on at an extraordinary rate and that is why we should savour every moment. This summer, Sweden and England have been able to relive those two summers from the 90s while a younger generation has had its first taste of it.
Enjoy it while it lasts. It may not happen again for another 20 years.