KEARNEY — When Austin Jacobsen considered joining a fraternity, he did it so he would "always have someone to hang out with."
But, as was reaffirmed by traveling to the land where Greek life began, being a part of a fraternity is more than just parties and friends.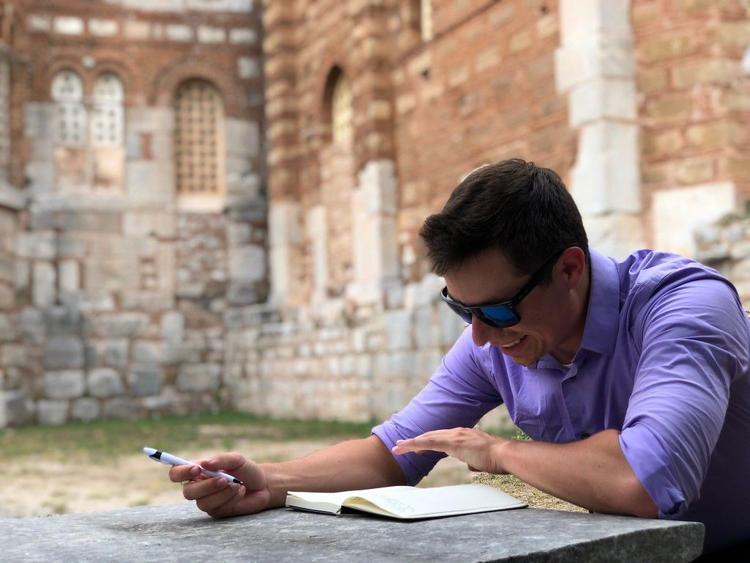 "I've always felt that our fraternity (Sigma Phi Epsilon), especially, is just more than what everyone considers us to be, like a drinking club or just guys that hang out and pay to hang out with each other, essentially," Jacobsen said. "But I've always considered us deeper than that." Last school year, Jacobsen applied for SigEp's national "Tragos Quest to Greece" program, where a dozen fraternity members explore Greek culture and the origins of their fraternity's values.
The junior didn't think he'd make it — at first.
The application itself was "not easy at all," he said, and it required several deep-thinking questions about his personal philosophies of what it meant to be a member of SigEp.
Though he had been heavily involved in the fraternity that year, as the vice president of programming, Jacobsen believed the odds of being chosen were not in his favor. He learned more than 300 applicants from across the United States were trying to get in that year.
Even when he was chosen as one of the 52 finalists, he still didn't have high hopes.
But when Jacobsen heard it announced at a regional SigEp event that he was chosen as a scholar, he said it felt "like divine intervention" and he couldn't help but let a huge smile spread across his face.
Though he had learned a lot about his fraternity in the past year, Jacobsen never had thought about why Greek life was Greek and where the founders of SigEp had chosen that over 100 years ago.
"We always think of this culture of 'going Greek' and joining a fraternity or sorority, but we don't really know why," he said. "We don't know why we always say Greece. Why don't we say, "Why don't you go Roman' or 'Why don't you go Persian?'"
What he discovered was "enlightening."
While traveling to places like the Parthenon in Athens and the Temple of Delphi in Delphi, Jacobsen learned more about the roots of fraternal organizations, which is where he said Greece actually has its roots, too.
Jacobsen learned SigEp's founders studied the origins of fraternities just like he was doing, and taking that outline for their own. Everything from his fraternity's name to the structure of meetings had been taken from Greece, he said he realized.
"All of it is related back to Greece," he said. "I never had considered all these different things as to why we do things the way we do, like in our meetings and different rituals and all that stuff. But they (the fraternity's founders) had went to Greece and they researched themselves and they were like, 'This is what we want to be based on.' So everything we do is for a reason."
Jacobsen also learned more of what it means to be a SigEp brother. Like all sororities and fraternities, SigEp has a unique mission and identity.
One morning of the trip, right after the group had completed a morning workout on the beach, Jacobsen was walking through the morning fish market in the village where they were staying.
An older man who was at the market stopped Jacobsen and asked him if he was an American, and he said, "Yes, I am."
Then, he remembered that the group had been encouraged to ask locals what they thought Sigma Phi Epsilon meant, so Jacobsen asked the man.
"I'm actually from the fraternity Sigma Phi Epsilon. What do you think that means?" Jacobsen asked.
"Strength," the man replied.
Jacobsen still wonders what exactly the man meant, or what more he might have said if his English-speaking skills were more developed.
"It kinda makes me wonder if he means strength of mind or if he means like sound body or strength encompassing in numbers. There are so many different variations of strength," he said. "And maybe I'm over thinking it … but he said 'strength' for a reason."
Regardless of what the man meant, the fraternity's mission is "Building balanced men," which Jacobsen says means having a "sound mind and sound body."
Though he had known this before, and lived it, he describes that it was eye-opening to see how the Greeks valued this, as well.
The group visited Olympia, where Greeks competed in the first Olympics. He said it was quite the contrast to the days prior, where they had been learning about history and doing some philosophical thinking.
"I think there are too many times when we get too philosophical and we get too into our heads, when it's not a bad thing to be able to go out and exert energy," he said.
The group got to run on the same ground Greeks competed on years ago, because the ancient people cared about philosophy, art and fitness of mind, as well as fitness of body.
Though he said a few days after the trip there was so much he was still processing and so many more stories he had left to tell, what he's truly excited for is the opportunity to return to his fraternity and share what he's learned.
If it was such a groundbreaking experience for him, he hopes it will be for his fraternity brothers, as well.
"I don't know if everyone would get the same experience, not everyone would be able to see and understand what it means in total, but it truly did mean something to me. And now we're supposed to be the ones that communicate it and spread what we've learned," he said.
"I feel like I met Socrates, I met Pythagoras and I met these philosophers and now that I know what they said, I need to go back and tell the people that follow me and the people that look up to me what I've learned."